It's another concert-filled week, which I will finish off with a trip to Bonnaroo. Hooray!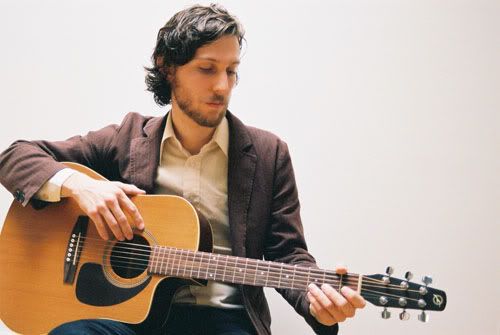 Tony of Toronto-based band
Great Lake Swimmers
stopped by the offices last night to record for the podcast. It was good he came, because I have a hard time believing Canada is a real place. Everything I ever mail there gets lost, never to be seen again.
Blame Canada?
Why, yes... I do.
Jared, Brit, Ashley and I got to sit-in for the recording since we were the only ones left at closing time. If that was always a reward, I'd work late more often.
Tony played solo acoustic versions of "Your Rocky Spine," "There Is a Light," and "Backstage With the Modern Dancers." His singing voice was loud and clear, but it still sounded like he was whispering, which makes the songs even more delicate. Pretty amazing. Great Lake Swimmers deserve the praise they've received.
Went to the full show later that night at The Earl.
Eleni Mandell
opened to a large crowd. Reminded me of when I saw Camera Obscura and had a "Wow, why didn't someone make me listen to this dreamy album sooner?!" moment. She and her band put on a great show. I'm now listening to the album to make up for lost time. Here some of it
here
.
Great Lake Swimmers closed. They played a song I had never heard before called "Moving Pictures Silent Films," off their self-titled 2005 release. At first I thought the lyrics to the chorus were:
"Where have you been, and what have you done? I've been under the ground, eating critters from this old book I found under the ground"
which would have been weird in a Six Feet Under kinda-way. Luckily for everyone else I am just an idiot with bad hearing. The real lyrics are:
Where have you been
And what have you done?
I've been under the ground
Reading prayers
From this old book I found
Under the ground.
Oops. Not as bad as the six years that I thought the lyrics to "Mrs. Robinson" were
"And here's to you, Mrs. Robinson / She's a slut / And more than you would know...."
'Whoa whoa whoa' is right.
But back to Great Lake Swimmers. So they were playing "Moving Pictures Silent Films" and there was a couple standing in front of me. The woman had her hand on her man's back in a comforting, reassuring way. It felt like a scene in a movie, even though I didn't know the title of the song involved films. Perhaps I'll make it a scene in my movie, which Matt Ward has forced me to start working on again. Thanks, Matt -- I need people like you to help me see my projects through.
Tonight's concert: The National (!!!!!!!!)
Stay tuned...